Older Pages (Cool Page)
Newer Pages (IXLA)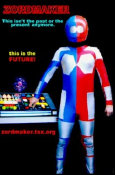 EMAIL me on;
zordmaker@hotmail.com
Electrain
A website dedicated to the fine work
done by a fine group of volunteers
to get Sydney's Red Rattlers back on the track

Hi all. After three years of inactivity in the heritage rail field, yes I'M BACK.

Norm Thomas (Third from bottom left on photo above) died in January 2004 from a sudden and unexpected fight with
cancer. Norm made me promise before he died - that the old Reds would one day run again, and asked me to rejoin SETS after a 9 year sojourn from that group.

A new era is dawning on NSW Rail Preservation. There is much work to be done. But one thing is for sure - the impasse
between SETS and HET (which has now existed for 10 years) MUST END before the Reds will run again.

Yes there is lots of history - to both groups - and to the members in those groups. Yes a lot of mistakes have been made on both sides by many people over the last 16 years (myself included). Alas some people will never forget. Still others can't even remember why after all these years there are two groups dedicated to preserving electric trains in NSW. But everywhere we all know why these trains are still locked in the shed.

The time has come for a fresh start. Let's get these two groups talking and get those trains back on the track. Lets finish the job that was started in the Doherty Centre in Chatswood in May 1991. Stay tuned for more!

Last Updated
23rd January 2014