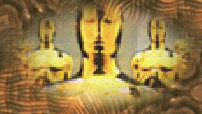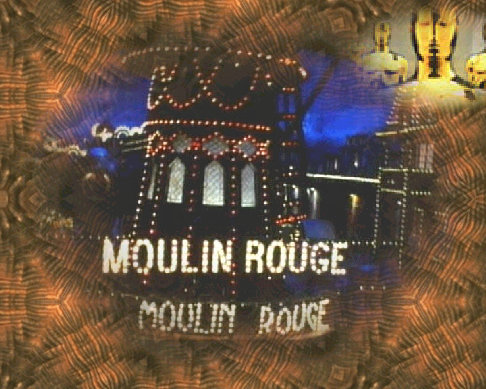 Academy Award Winner
Best Production Design
2002
Another 100% Artist Elex Major Film
"Moulin Rouge"
Bazmark Productions P/L 2000
Production Designer : Catherine Martin
Art Director : Ian Gracie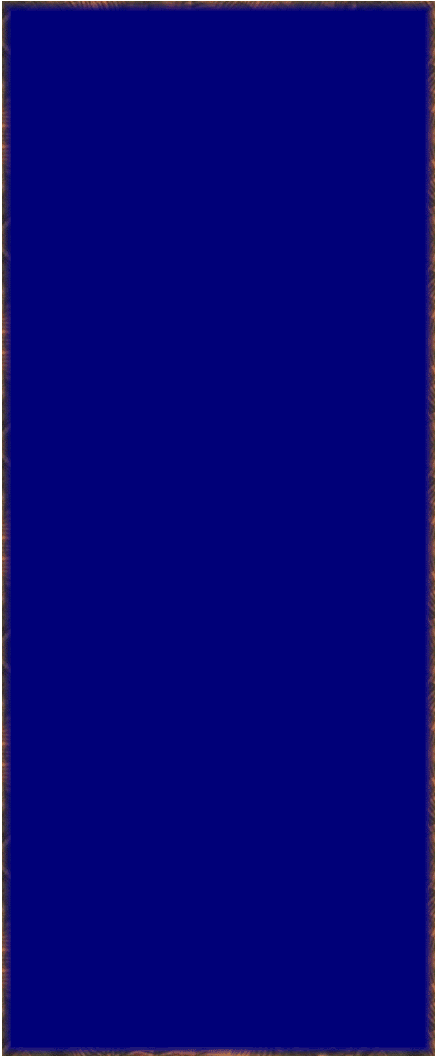 Set in 1899, Moulin Rouge is a fantastical musical piece in the tradition of Baz Luhrmann's "Romeo and Juliet". It has a large star list including Nicole Kidman and Ewan Mc Gregor. Music and style is blown out of all proportion with "Moulin Rouge".

The film (apart from being about Love, as Bazmark claim) is in part about the way the world reacts to changes in technology. Like the Communications revolution in 1999 / 2000, the big buz in 1899 / 1900 was Electricity and the "Electric Light". Hence Electric lighting is a recurring, important "hero" theme in the film.

Moulin Rouge, a nightclub in Montmatre, Paris was owned by Zidler, a particularly extravagant character who went over the top in everything he did. So when it comes time to introduce the world of his nightclub to electricity, it is in a big way. And so it's natural that Artist Electrics be called upon to spice up the '2000 version.

Instead of building a backlot (as was initially planned), the Moulin Rouge production chose to utilise 1/3 and 1/5 scale models as backdrops for most of the wide screen shots. As a result, complex and intricate models of the Moulin Rouge Windmill (in both scales) and other buildings have been constructed and lit by Art Elex using 12v and 24v systems.

But by far the biggest challenge on this film was the sheer numbers involved. Everything.. EVERYTHING.. was always in lots of 100 or 1000. You didn't install 1 light, you referred to any particular task in terms of the number of zeros after the figure, not the figure itself. One of the most difficult aspects was not in providing the labour, but in obtaining the materials needed in such massive quantities in Australia. In some cases large quantities had to be imported. Certainly several of the usual electrical suppliers in Sydney (No names, but Herkes Electrical springs to mind) that would normally get the job to supply such productions, blew their chance early by treating us like shit, missing deadlines and then lying to us. The subsequent "Buying" part of the task was huge and consumed many man hours in the office. Thank goodness for Bambach Cables, WES Components, Beal Pritchett and TLE Electrical.

More than 8000 x Festoon fittings were used in this production, and literally '1000s of brass heat resistant battenholders of varying patterns, and over 20,000 globes of all shapes and sizes, including many period lamps imported for the task. For most of the project Artist Electronics supplied two onsite fully qualified electricians and an assistant, aswell as making extensive use of part time and casual contracted labour. The quantities involved meant that the materials costs of this project were very high - although they could have been much higher had Artist Electronics taken extra care in advance ordering of materials and choosing the right suppliers. All, that is ALL of the light fittings used on this production were built from scratch, using plaster moulds and steel turned fittings, hand wired and then installed on set.

In the end, the "Main Hall Set" and the "Garden Set" (together intended to represent the Moulin Rouge as it may have originally looked in Paris in 1899) featured over 150kW of practical lighting alone - an astonishingly large amount. No concern seemed to be shown by anyone that historically in reality (back in 1899) there wasn't a machine or power plant anywhere in the world (We need to remember, this was before the advent of AC current and the concept of substations) which could have furnished even half the energy required to light Baz's interpretations of "Moulin Rouge!

But that's showbiz.

Yours Truly has grown to amazing size!!.. No not really. Here I am on the 1/5th scale
model of the Moulin Rouge facade. Yes, every single one of those globes was put there
by Artist Elex.. not souch a challenge I hear you say. But consider that most sets were
built in THREE different scales (i.e. three times) 1/5, 1/3 and Actual Size.. and that
starts to indicate how large this job was. Below - Harold Zidler intruduces us to his obsession.. Electricity.. in a scene that was eventually cut from the film :-(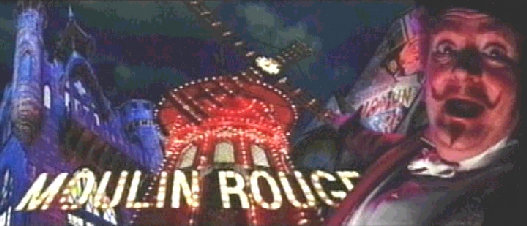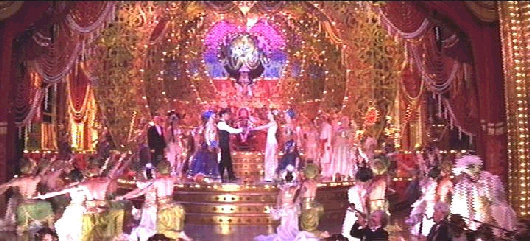 Below : The finale in the Spectacular Spectacular set. For all the full goss, see the
production story links below!
LAST UPDATE 24/1/03