Programming a Bell Time
Bell times are programmed into the C1 Channel.
They are entered as a START time followed by a DURATION (in seconds).

For the standard Inter M 4 chime period bell sound:
1 second = 1 ring (4 bongs)
8 seconds = 2 Rings (4 bongs, break, 4 bongs).
) Use CIRCLE button to move MODE arrow to
the PULSE mode (square). Screen should
display as per pic 1 RIGHT.
) Press "C1" Button. Display should read as per
pic 2 RIGHT.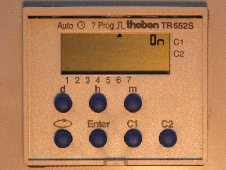 ) Use "d" and "Enter" buttons to select DAYS you want the bell
to ring.
) Use "h" and "m" buttons to select TIME you want bell to ring.
Remember this unit is 24 hour time, i.e. 1pm = 13:00.
5.) Press ENTER. Display should now apper as per (3) RIGHT.
) Use "m" button to select number of seconds for bell ring
duration. Normally 1 to 8 secs. See (4) RIGHT.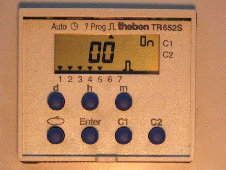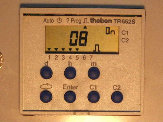 7.) Press ENTER.
) Return to Step (2) above to enter another time or use
CIRCLE button to return MODE arrow to "auto" to finish.
1
2
3
4